Shopping places had quite different meaning in the past. They were kind of living spaces where people socialize as well as exchange goods. As you may know Istanbul was a very important place for World's trade over history and hence, the first shopping bazaar, Grand Bazaar, was established in this city. Historical bazaars one of the most important landmarks of the city. We have compiled the best shopping bazaars in Istanbul which will surprise you with its authentic atmosphere and give you a taste of old times of this city!
Arasta Bazaar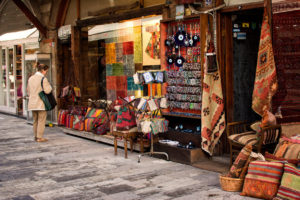 The most well-known and magnificent historical places in Istanbul are gather around Blue Mosque area. After you visit Hagia Sophia, Basilica Cistern and Blue Mosque, you may want to get some rest. Close your eyes and imagine Ottoman soldiers who bought stuffs for themselves once in this very same bazaar while drinking your Turkish coffee! You can find unique and rare
Turkish handcrafts such as wire netting and rug weaving as well as mosaics and ceramics which belongs to Byzantine Era. 
Arasta Bazaar is also prosperous in terms of organic personal care products and traditional Turkish spices. Take your time while drinking your Turkish coffee. One thing is clear: you will come back to home with exceptional gifts!
Grand Bazaar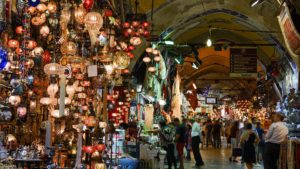 500 years ago, Grand Bazaar was the first shopping mall in the World and centre of finance in Istanbul. At early times, each street of the bazaar was belonged a specific craftsman group. They both produced and sold their hands craft at the same place. Trade regulations and unspoken moral rules were very strict and solidarity between craftsman kept this bazaar alive over 500 years.
You will be very impressed by the architecture and profundity of Grand Bazaar at the first glance! Diversity of the offers will definitely surprise you. Household goods made by ceramic and mosaic, jewelry, Turkish delights or traditional handcrafts, everything you have heard about Turkish culture embodies there! You will have plenty of stories beside authentic gifts on your way back to home!
 Egyptian Bazaar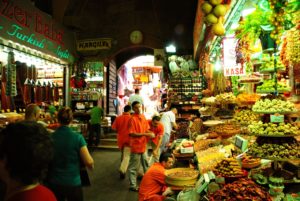 Egyptian Bazaar is one of the oldest market places in Istanbul which established in Byzantine Era. Architecture of the bazaar is a perfect example of Ottoman Urbanism and selective products from East and West are gathered together in this trade centre for centuries. Odour of spices will welcome you when you step into Egyptian Bazaar. Various herbs which are known as effective supplementaries, dried fruits,
Ottoman ceramics, handmade jewels are some of the outstanding goods offered in this bazaar. If you describe yourself as a "tea and herb" person or a healer, you must see Egyptian Bazaar!
As we mentioned in the beginning, bazaars are not only shopping places in Istanbul. They are witness of the history of Istanbul and a warm welcome is always waiting for you in these places. To discover more places like this, check out our city experiences and get in touch with our experienced locals!